Human Nature
Major Doctor Who geek-out post, here. You've been warned.
It's been known for some time that Paul Cornell, writer of many Who books and the man who brought us the Time Dragons (I refuse to call them reapers) in season one, would be contributing a two-part script to season three.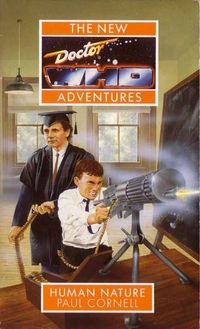 Somewhat later, and I don't know how, the rumour was that this script would be an adaptation of what was arguably his best novel, 'Human Nature'. These rumours were stoked when the girl from Spaced was announced as playing a character called Joan — the name of the main character in the book. Now that a truckload of other actors have been named, all with the names of other characters, it almost seems certain.
This is awesome for at least two reasons. One; the story itself is a fantastic one, and quite an emotional one for the Doctor. There should be tears jerked, is all I'm saying. And two; the key child role in the story is being played by Thomas Sangster, the kid from Love, Actually. Which has instantly put to rest my fears of child actors. Robin Hood fangirls (and I know there's one of you around somewhere) will be happy to note that it looks like Will Scarlett is in it too.
Adapting an old script has happened before; 'Dalek' in season one was in many ways a retelling of the same author's audio play 'Jubilee'. But that didn't bother me as I'd never really been sucked into the audio plays. The books are different though — I like to think of them as having actually happened. In order to maintain my personal continuity, I've decided that something that happened in the Time War must have screwed around with time so that 'Human Nature' never happened in the first place, but now it will.
Ahem.
So, anyhow, look out for episodes eight ('The Family of Blood') and nine (title as yet unknown) next year. They should be great.
332